This seminar is fully HRDF claimable.
CCD Points are available from CIDB and Board of Engineers Malaysia (BEM)
*In-House training available for this course
14 JULY 2020 | 9AM – 5PM | DOUBLE TREE HOTEL, MELAKA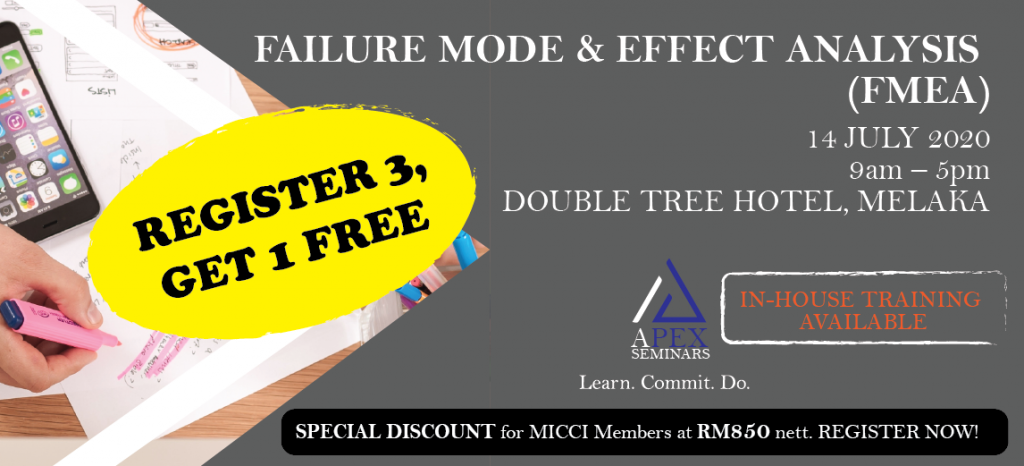 FAILURE MODE & EFFECT ANALYSIS (FMEA)
Failure of a product or a process is a costly problem that every manufacturer has and will face at some point. While conventional approach focuses on countermeasure and correction of such failures, the Failure Mode & Effect Analysis (FMEA) will help to predict the failure and therefore act on prevention to simply avoid the failure.
Understand how a step by step analysis of a design or a process can lead to identifying and rating potential failures and help you focus on the critical weaknesses even before the production has started.
---
THIS SEMINAR IS ESSENTIAL FOR

---
– Product Development Team
– Product and Process Engineers
– Design Engineers
– Reliability Engineers
– Plant Operations Manager
– Maintenance Engineers
– Component Technology Team
– Logistics Staff
– Other personnel involved with Production, Process, Equipment and Maintenance Management and supervision
– Anyone responsible for reliability and customer satisfaction
---
OBJECTIVE
---
Corporations will reduce the cost of poor quality of both their products and processes by learning how to establish a systematic and proven failure prediction and assessment method.
Introduced in the 70's by the automotive industry, FMEA has now been adopted by most industries at all levels, from the conception of products to the production line and logistic network to efficiently improve quality.
Understand the importance of failure prediction.
Establish a comprehensive breakdown of the product of process potential failures.
Assess each potential failure through three simple criteria.
Define and plan necessary improvement actions.
---
COURSE OUTLINE
---
Introduction of FMEA
Understanding the benefits of implementing FMEA
Learning the FMEA Process Sequence
The specifics of Design FMEA (DFMEA)
The specifics of Process FMEA (PFMEA)
Rating each potential failure
Establishing improvement actions
Evaluate the improvements
---
METHODOLOGY
---
Training will be conducted alternating between lectures about the core concepts of FMEA and group exercises in which applicants will practice each aspect of the FMEA work flow based on real world examples.
---
SPEAKER
---
---
Register / find out more about this seminar: